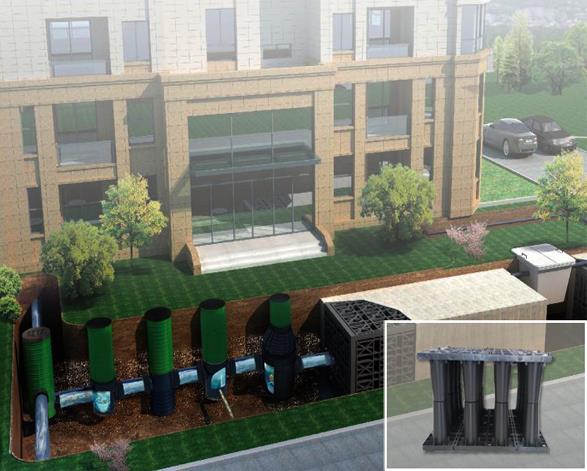 Rainwater harvesting system
With the rapid development of China's economy and the large-scale construction of industrialization, a large number of hardened grounds have appeared, which has reduced the amount of rainwater infiltration, resulting in the advance of flood peaks, the increase of flood peaks, the pollution of water bodies, the shortage of water sources, and the underground Shen and other issues. As a relatively clean and cheap source of water, rainwater resources have become a promising topic if they are fully collected and utilized. This topic not only has certain economic benefits, but also huge environmental and ecological benefits and social benefits. The company has many years of experience in rainwater recycling projects, product development, design, manufacturing, sales
Product Details
With the rapid development of China's economy and the large-scale construction of industrialization, a large number of hardened grounds have appeared, which has reduced the amount of rainwater infiltration, resulting in the advance of flood peaks, the increase of flood peaks, the pollution of water bodies, the shortage of water sources, and the underground Shen and other issues. As a relatively clean and cheap source of water, rainwater resources have become a promising topic if they are fully collected and utilized. The rainwater harvesting system not only has certain economic benefits, but also huge environmental and ecological benefits and social benefits.
The company has many years of experience in rainwater recycling projects, integrating product development, design, manufacturing and sales.
The company's rainwater recycling products mainly include rainwater pre-treatment series, rainwater storage series, rainwater deep purification series and rainwater infiltration series and rainwater related control series. The company's technical team has rich experience and leading domestic design capabilities. It can provide complete design solutions and construction suggestions for various projects to meet the actual needs of customers.
Products apply to industrial and civil buildings such as schools, municipal roads, plazas, communities, convention centers, industrial plants and various types of hotels. For the ground rainwater harvesting industry wholesale and ground rainwater harvesting industry prices are welcome to inquire