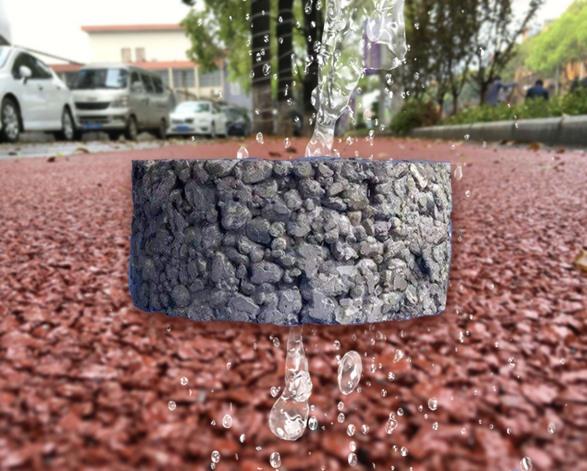 Pervious concrete
Pervious concrete is also called porous concrete, no sand concrete, and permeable floor. It is a porous lightweight concrete made of aggregate, cement, reinforcing agent and water. It does not contain fine aggregate. The permeable concrete is coated with a thin layer of cement slurry on the surface of the coarse aggregate to form a honeycomb structure with uniformly distributed pores, so that it has the characteristics of gas permeability, water permeability and light weight. The permeable concrete is designed to use some of the urban environmental problems that allow rainwater to flow into the ground, effectively replenish groundwater, and alleviate the sharp drop in the city's groundwater level. And can effectively eliminate oil compounds on the ground
Product Details
Pervious concrete is also called porous concrete, no sand concrete, and permeable floor. It is a porous lightweight concrete made of aggregate, cement, reinforcing agent and water. It does not contain fine aggregate.
The permeable concrete is coated with a thin layer of cement slurry on the surface of the coarse aggregate to form a honeycomb structure with uniformly distributed pores, so that it has the characteristics of gas permeability, water permeability and light weight.
The permeable concrete is designed to use some of the urban environmental problems that allow rainwater to flow into the ground, effectively replenish groundwater, and alleviate the sharp drop in the city's groundwater level. It can effectively eliminate the environmental pollution caused by oil compounds on the ground; at the same time, it is an excellent paving material for protecting groundwater, maintaining ecological balance and mitigating urban heat island effect; it is conducive to the healthy development of human living environment and Urban rainwater management and water pollution prevention and control work have special significance.
The permeable concrete system has a series of color formulas, which are designed with the creativity of the design and are designed for different environments and individual requirements. This is a special paving material that cannot be realized by conventional paving and general permeable bricks.